Current Location:

home

Current Mood:

tired
Copy-drawing again. Same victim: did the centre piece of this image (
Current Location:

home

Current Mood:

artistic

Current Music:

remember me
... or should I say.... the urge to copy someone else's art!?
Well anyway, that's what I've been up to this evening.
I am a big fan of Jenny Dolfen's art over at deviantart so I decided to have a go at copying another of her works. This time the infamous 'drawing of the sword' scene. (
http://gold-seven.deviantart.com/art/Get-thee-gone-and-take-thy-due-place-346216637
)
I love this piece. it is amazing. Fëanor looking intense and amazing and Fingolfin.... well, it's Fingolfin's back.. But he is wearing an amazing blue piece that I covet.
What follows is a series of pictures showing my progression. Apologies, some don't look that good. Must remember to take pictures with real camera and not phone. And to frame them properly...
(
dum dum... pictures under this here cut
Collapse
)
The urge to draw has re-emerged!
Current Location:

home

Current Mood:

accomplished
This little guy came home with me from Pets at Home on 4th March. Really shit day on supply so at least he cheered me up. Saw he was a long haired guy and so that decided it :)
Didn't have a name for a while but I decided to call him Finwë in the end, after one of the Elven king's from Tolkien's Silmarillion just because he is bold and interested in everything and I imagine Elven Finwë was the same when he was chosen to be the first to go to Valinor /geek moment.
Anyway he is super cute and full of life: I have been doing taming sessions in the bath because he is so quick. I hasten to add there is no water in the bath and I'm dressed when this happens!
(
Some piccies
Collapse
)
So while lovely Nick was away in the Caspian I persuaded him via email to let me get another small, furry! Oh, I just love hamsters!
Current Location:

Chertsey

Current Mood:

cheerful
Little Monty is still the world's most lazy hamster. I thought Herbie was bad but Monty never leaves his nest room! :D He's become a very furry little guy just like I predicted he would be: proved the doubters wrong!
Current Location:

Chertsey

Current Mood:

amused


Only minor hitch was coming home from work and finding that Monty had escaped! Cue major panic as every damn door in the flat was open and he could have been anywhere and chewed up all the wires. Luckily, fate was kind to me and I managed to locate him within half an hour (within a suitcase within a walk in wardrobe). Phew.

I packed up Monty's cage and tucked him and some cucumber in his travel cage and set off in my trusty red mini, Mavis, to Norton Canes. Journey time approx 2.5-3hrs and man, was it boring. Thank god for Magic FM most of the way. Fortunately roads were clear and I took M25 then M40 and M42 home. Imagine my horror when the satnav told me to keep on the M40 for 80 miles or something. LOL. Motorway driving is boring!


Well we made it back safe and sound and I am feeling proud of myself. Nervous driver still but I am getting there. Never thought six months ago I would have come this far in my driving career!
Wahey, I made it home!! I have just made my first solo drive from Surrey to Staffs and have made it safe and sound.
Current Location:

Norton Canes

Current Mood:

accomplished

Current Music:

Queen
Man, was it cold though! I was freaking freezing even all wrapped up in my winter woollies.
On the plus side on our little walk we made friends with this lovely pony, she was so friendly. I really miss horses in my life. :(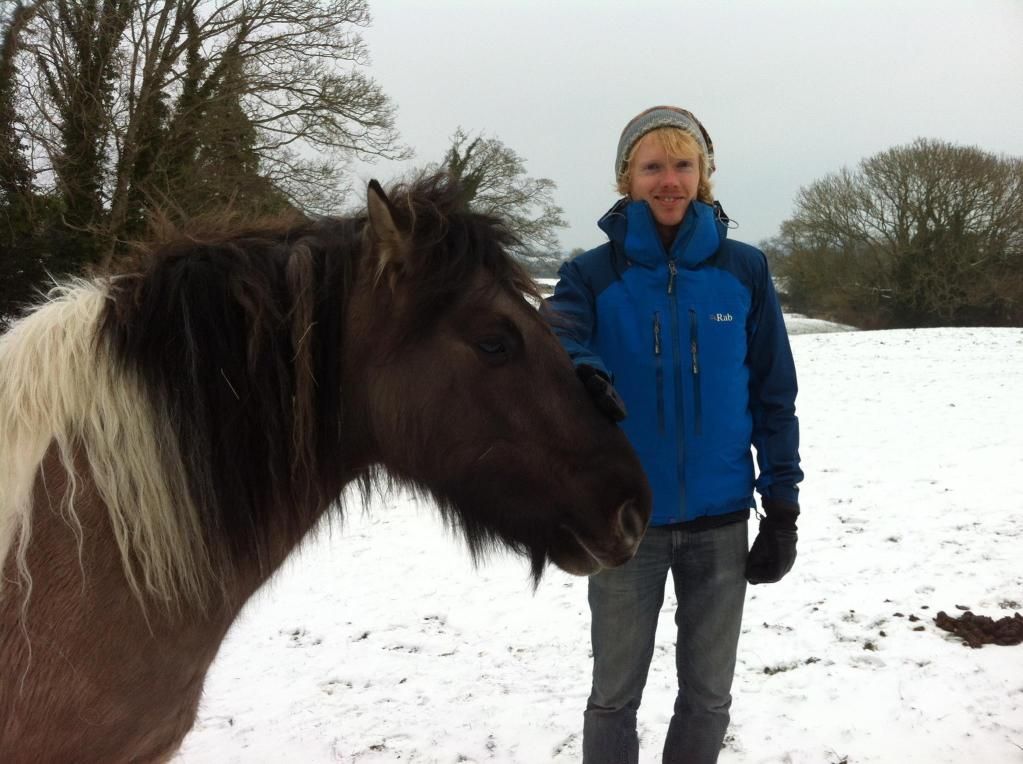 We went down to Lewes this weekend. It's a pretty cool place, I like medieval places! I especially liked the French lady selling her cheese on the street. Always good to speak a little French!
I was home in Staffs with the olds to 'celebrate' and it was good to see the family, especially my Grandad. He's almost 89 now. :o
I opened all my presents from my class. They were all so kind to get me so many gifts. I am definitely going to miss going back to them next week. It's going to be strange. Really felt like they were 'my' class and now they're not. Hmm
Here's a selection of my presents: I got lots of chocolate (no complaints!) and lots of smellies (again, no complaints but I do have a lot... I could open my own shop now :D)
Most of my toiletries.... ok, I do have an insane amount: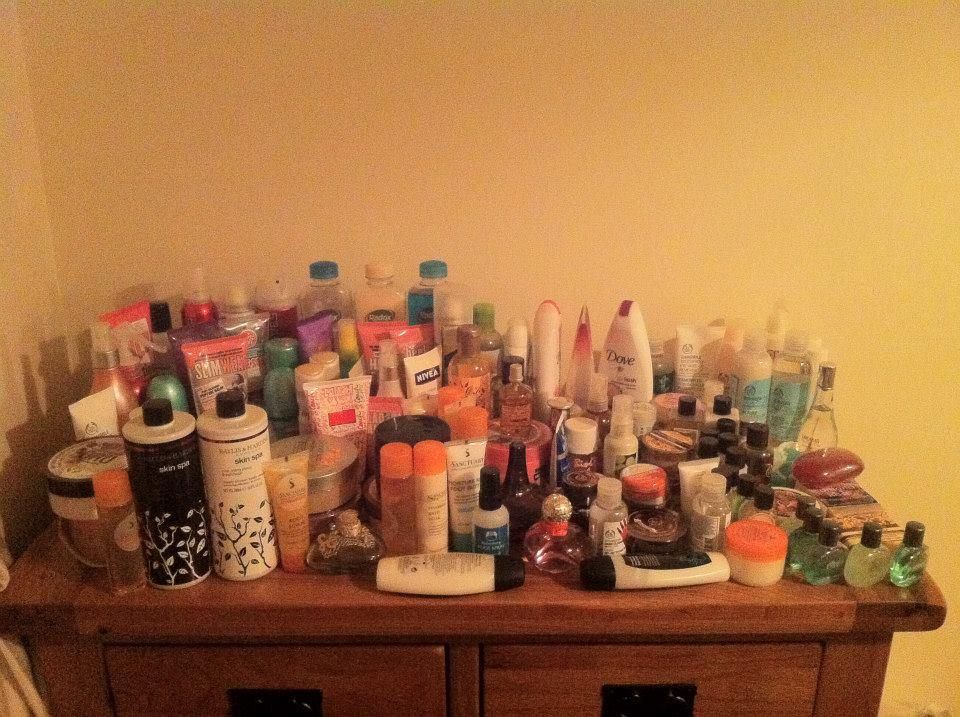 I decided to spend NYE making all my small bars of soap into one large one. No, I don't know why either: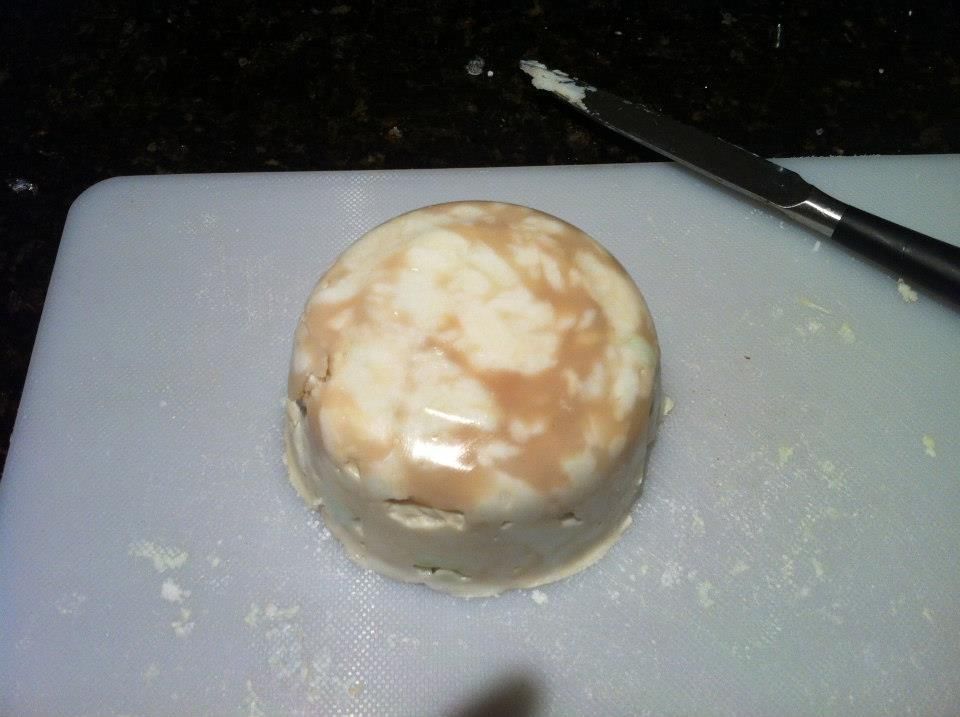 So happy new year 2013. Lets hope it's an improvement over 2012 :(
Well New Year and Christmas have passed. Not that anyone was feeling in the festive mood but at least there's some hope now.
Yodel are the worst delivery company I have ever dealt with! Ordered some things through zooplus two weeks ago today.... three 'attempted' deliveries later and I finally get tracking number off of zooplus last Thursday.
Called to rearrange delivery last Thursday for Friday... nothing turns up. Called on Friday, apparently request not sent. Annoyed, but these things happen so rearrange for Monday.
Monday comes, tracking still showing that is 'held at depot'. On the phone again to same incompetent customer services team to be told that 'because delivery had been attempted three times they would not deliver again!' 1: thanks for telling me the first two times I ask for redelivery- what the heck?? Why would you NOT TELL the customer that there is no point trying to have a redelivery if you know the company are not going to send it?!! 2: these 'attempted deliveries' are a joke: I was out on the Friday, fine, but on the Saturday and Monday I was in. No ringing of entry phone (live in apartment block) and NO cards left. NONE out of three supposed deliveries. I have checked everywhere by the entry door/corridor and asked other residents. Nada.
Explain all this to rep on phone. She then sends an email through to the service depot in Chessington explaining situation (no cards left, I cannot get to depot because I have no car during daytime as partner works and item is heavy/large and too much to take on the two buses and train that taking public transport would entail) and assures me delivery will take place today.
Well here we are on today. Still showing 'held at depot'. On the phone again (incidentally a premium rate number at 10p/min and on hold for ages each time!) and finally been passed on to 'escalation' department. Although cannot speak to them myself, they will have to 'call me back' as they have a queue. I bet they do! I have insisted they call me back today as I need the things in the package quite urgently! We will see if they do.
Asked for a phone number/email address for the specific depot but apparently they 'do not have one'. Right. Somehow I find that difficult to believe, they probably don't want to be bombarded with customer complaints!
Am so angry with this company right now, could they be any more incompetent? I have made a complaint through their complaints form on their website but don't expect a reply, and also on twitter but haven't received a reply on there either. So incompetent and with dreadful customer service.
Current Location:

Chertsey

Current Mood:

annoyed

Current Music:

Saint Saens Symphony Number 3 in C minor
hello all,
here are some important things I have learned here in Maine:
1) It is possible to rescue a dried up contact lens and get it back in full working order. (I was staying the night at Lauren's house, she is my friend the barn director girl, and, well, the light was off when I took my lens's out that night so obviously I missed with my aim. After cursing under my breath and glancing at the ridiculously bright sky I just dumped the poor brittle thing back in the solution and prayed. It was touch and go for a while but we made it. Contact lens was fully functioning again.
2) 11 year olds have toy boys. It's really funny.
3) Apropos to that: 12 and 13 year old girls LOVE themselves. Seriously LOVE themselves. They are God's gift to the world. We have a full length mirror in the cabin andit get utilised a lot.
4) Continuing on that theme... I can shower, shave, get dressed and brush my hair and teeth before my girls can get up and drag a pair of shorts on in the morning.
5) High-Low circles are the bane of my life.
6) Hay is STILL the other bane of my life. Where are the burly life guards when you need them?? At least these are only two string bales...
7) 13 year olds are stronger than me when lifting bales of hay. At least they have some uses.
8) Teaching absolute beginners is at once both truly terrifying and hilarious. You turn around for two seconds and LOOK! That horse that was walking placidly around the ring has somehow transported itself neatly onto the centre line.
9) Children know no geography. Or history. Or anything. I did a quiz last night as part of my cabin night. I asked what was the capital of the UK... of England then,... ok, of the USA.... no? Not even your own country? I know you're 11 but.... no?
10) Candy instantly brings smiles of joy to campers' faces.
11) It's really funny to mess with your camper's heads: tell them you're all going on a creek walk for cabin night, keep up the pretense all day then actually take them for said creek walk because the whole time they're so confidently telling you that we would never plan something as banal and boring as a creek walk for cabin night. Then offer candy to the first child to fully submerge themselves in the cold creek water and watch em all jump on in. Haha. Then we went to the hot tub. It was intense.
12) I still really love working with horses and teaching riding lessons.
13) It's nice to receive unexpected compliments. My director took me aside and told me that I taught the best lessons they have EVER had here. (Maybe they have really poor lessons normally?!) She also wanted me to come back next summer and take her role as the equine director; I was her first choice above all of the others. I am extremely flattered, a little taken aback and regretful that I cannot accept such an offer. Hopefully one of my co-counselors (who are all amazing) will come back and continue the great work here.
14) First impressions are not always correct. I disliked one of the girls here during staff training; I was displeased when I found out that we were going to be in the same cabin; I was even more displeased, although not surprised when I found out we were on the same shift (Here there are two shifts, we have like every other evening off and a 36hr break every 8 days so while the one shift is off the other is one... there are normally four counselors to each cabin, two on each shift). Turns out she is now one of my best friends here at camp, we spend our off time together and most of our time on laughing hysterically... especially at night after lights out.
15) Whispered conversations and silent laughter are the best kind.
16) The stars here are beautiful and I could watch them all night.
17) I miss Oregon, and Westwind every day, even though it is great here.
18) Milk Duds... it's a good job you don't exist in the UK... still the best American Candy.
19) I love llamas!
20) I am getting worse and worse at keeping in touch, and getting more cryptic every time!
hope everyone is well!
love Jo xxxx
Current Location:

Maine!!

Current Mood:

bemused